Custom content
REASONS TO WORK WITH US

Welcome to our universe of stationery. 

We are a Danish stationery brand but our outlook is international.
Our paper goods are now available in more than 600 shops worldwide.
Text columns with images
A BIT OF OUR STORY
Kartotek Copenhagen is a Danish stationery and design accessories brand. We design for the small everyday moments where we are at peace with ourselves or share time with those we care for. We search for ways to slow the pace of everyday life and make these small moments feel special. 
OUR PRODUCTS
One of the sentences you would hear most often in our design process is "could we make it more simple?" Our vision is to create a Danish design brand that reflects the Scandinavian simplicity with a modern and yet classical graphic touch; and to combine this with high quality materials and good craftsmanship. 
PRODUCTION
We care about you when we carefully select the best Scandinavian paper qualities and the friendliest production methods.
Text columns with images
WIDE PRODUCT RANGE
We offer a broad range of high-quality stationery products that exude Scandinavian elegance.
DEDICATED TEAM
We may be a small team, but our dedication is unmatched. Our personalized approach means you receive the attention and support you deserve.
B2B WEBSHOP
Simplify your ordering process with our user-friendly B2B webshop. Effortlessly browse and shop our products to keep your inventory stocked and your customers satisfied.
PACKING ALL YEAR
Say goodbye to waiting. We pack and deliver our products all year round, ensuring your stock is replenished promptly, helping you meet customer demands.
MEDIABANK
Access a comprehensive mediabank with all the photos and marketing materials you need to promote our products effectively in your store.
SHOWROOM AND OFFICE VISITS
Experience our brand up close by visiting our showroom and office. It's an opportunity to see our products firsthand and discuss business strategies in person. Our address is Classensgade 47, 2100 Copenhagen, Denmark.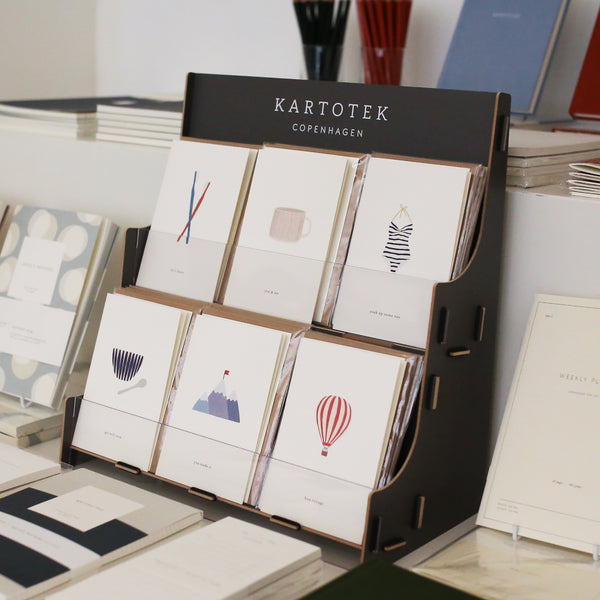 DISPLAY
We continuously develop displays that can help present our products as best as possible. Our experience is that sales increases by up to 50% with the right display. We have displays for both card sizes. Please contact us at sales@kartotekcopenhagen.dk to know more.
READY? BECOME A RETAILER
We're always looking for partners who share our brand values. Click below to apply.
MEET JULIE, THE FOUNDER
My name is Julie Warberg and I am the founder of Kartotek Copenhagen. I live in Copenhagen with my husband and two daughters.
When I started Kartotek Copenhagen back in 2016 I had a clear vision: to slow the pace of everyday life with well-designed and high quality paper goods. I wanted to create everyday design items that invite people into a quiet and calm setting. I truly believe that more than ever before we need to take breaks from our fast-paced hyper-digitalized lives. We need to find a balance between offline and online time and to make conscious decisions about how we spend our time.
As a psychologist I am deeply convinced that writing a note or scribbling down an idea does something good to us; that pen and paper create a certain space, where we feel more at peace with ourselves and with people around us. My dream is to bring more of those free spaces to life.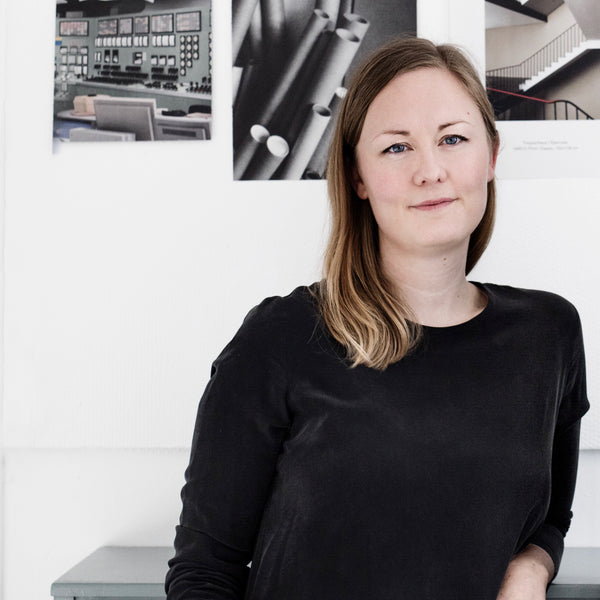 REASONS TO WORK WITH US
Everything you need to know about stocking Kartotek Copenhagen
We're always looking for partners that share our brand value. Please fill out our wholesale application form here, and we will get back to you with further information, including access to our B2B webshop.


Orders can be placed on our B2B webshop, or by emailing your order to sales@kartotekcopenhagen.dk. Please find login to our B2B webshop here. If you do not have an account, you can contact us here.


We kindly ask for prepayment on all international orders. Once we receive your order we pack it and send an invoice including shipping cost. As soon as your payment or proof of payment reaches us, we ship out your order. We ship with GLS and UPS depending on the destination.
Yes, we have a minimum order amount of 1500 DKK/200€.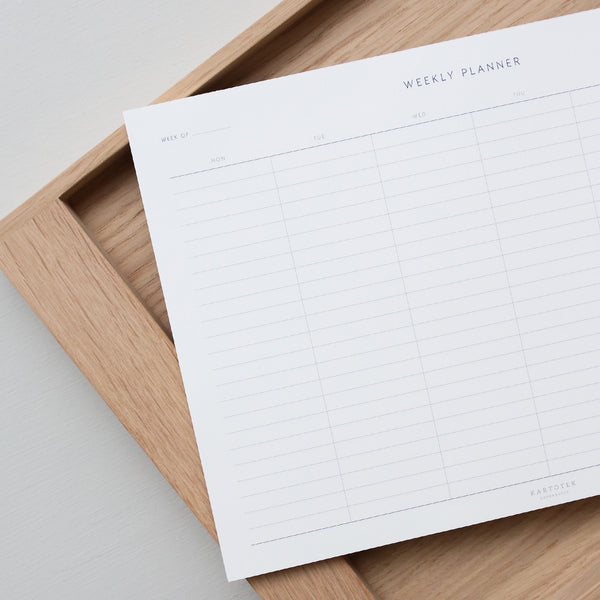 FUN FACT
The name KARTOTEK came to me when I saw a documentary about the functionalist gem Nyborg Library (situated on Funen, Denmark). The library is a stunning architectural masterpiece built by architects Flemming Lassen and Erik Møller in 1938-40. The font that was designed for the library was beautiful and simple and when I saw a sign with KARTOTEK written on it I found the word appealing and just right for my brand name.