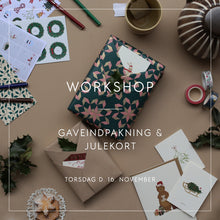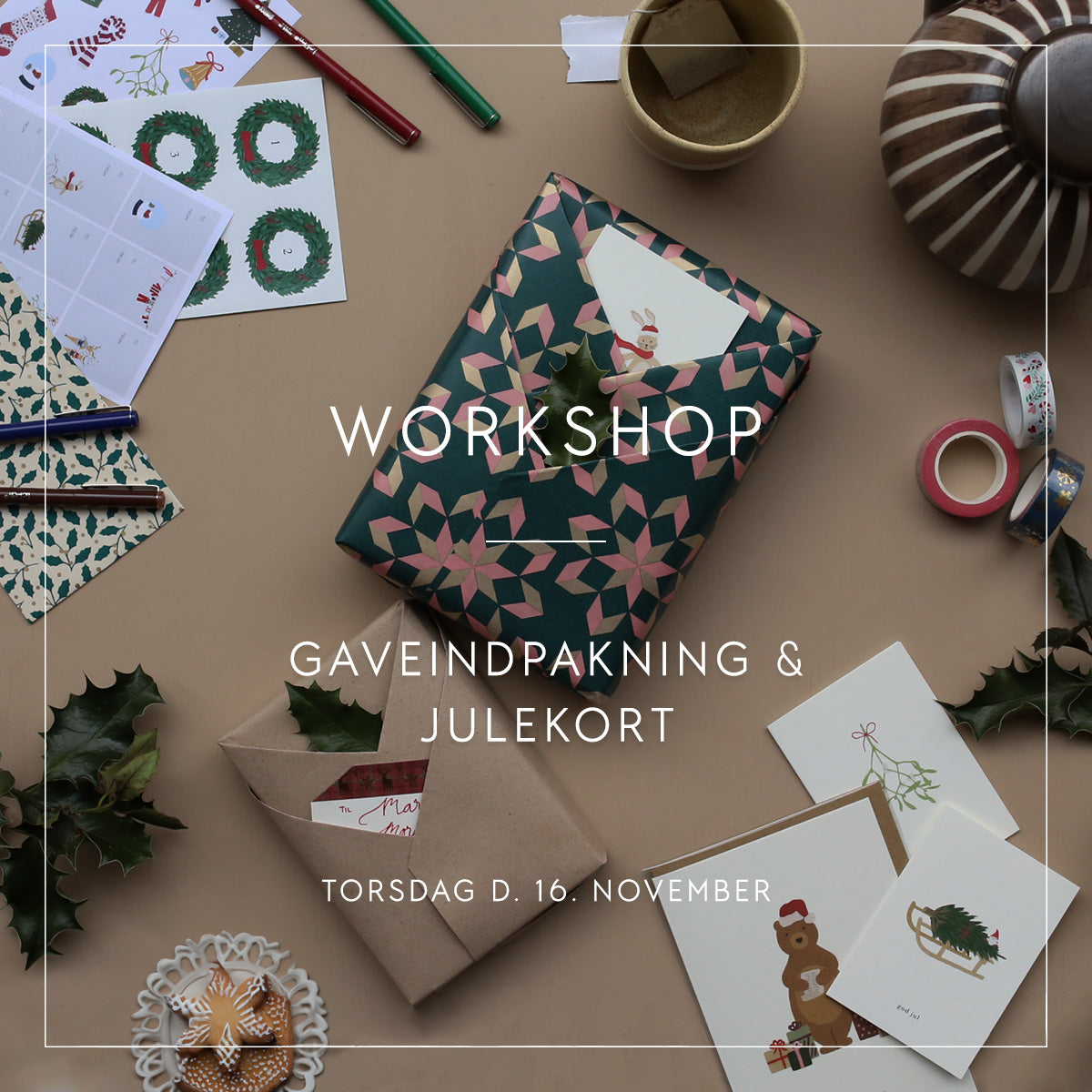 16. november 2023 // Juleworkshop: Gaveindpakning og julekort
Hvornår: Torsdag d. 16. november 2023, kl. 19-20:30
Hvor: Kartotek Copenhagen, Classensgade 47, 2100 København Ø
Hvem: Workshoppen er for alle interesserede
Pris: 295 kr. 

Du får: 1,5 time med oplæg, inspiration og tid til at prøve selv. Du får tre blanke kort med kuverter, tre manillamærker, et valgfrit Kartotek Copenhagen sticker sheet og en valgfri Plus Pen. Du vælger selv, om du vil dekorere kortene til workshoppen, eller om du vil tage dem med hjem. 

Velkommen til en workshop, hvor vi slipper kreativiteten fri!

På denne workshop får du ideer til gaveindpakning og hjemmelavede gavemærker og julekort. 
Gaveindpakning: 
Bliver du hurtigt træt af at pakke alle gaver ind på samme måde? Her lærer du nogle variationer, så det bliver sjovere og hyggeligt at pakke gaver ind. Indpakningen kan nemt varieres efter indholdets facon eller efter, hvem gaven er til. Man kan med relativt få og enkle teknikker gøre gaveindpakningen virkelig fin og nærmest gøre den til en forlængelse af selve gaven. Hvis gavemærkerne passer til indpakningen, giver det lidt ekstra lækkerhed til pakken, så det skal vi også prøve at lave. 
Julekort: 
Det er virkelig dejligt at modtage en lille, personlig julehilsen på et fint julekort. Man kan købe mange forskellige julekort, men det er så hyggeligt og dejligt afslappende at lave sine egne julekort midt i den travle juleforberedelsestid. Det er også dejligt at sende julekort, der er lavet med modtageren i tankerne. 
Vi skal sammen prøve forskellige teknikker, og som deltager kan du frit vælge, om du både vil prøve forskellige indpakningsmåder, at lave gavekort og julekort, eller om du vil nøjes med at koncentrere sig om én eller to af tingene. 
Alle materialer er tilgængelige her, så du skal bare komme og have en hyggelig aften. 
På workshoppen vil du:
Blive introduceret til forskellige indpakningsteknikker
Lave dine egne julekort og gavemærker
Få lov at eksperimentere med forskellige materialer inklusiv papir, penne, markers, stempler, farver mm.
Have tid til fordybelse og nyde den analoge pause


Få 

tre blanke kort med kuverter, tre

 

manillamærker

,

 

et valgfrit Kartotek

 

Copenhagen sticker

 

sheet

 

og en valgfri Plus Pen

Underviser: Dida Grundtvig, B2B- og indkøbsansvarlig hos Kartotek Copenhagen og indpaknings- kreanørd. Julie Warberg, psykolog og indehaver af Kartotek Copenhagen.  
Vi glæder os til at se dig!
Afbud senest 5 dage før. Ved afbud senere refunderes prisen ikke.
Der er plads til 8 deltagere.