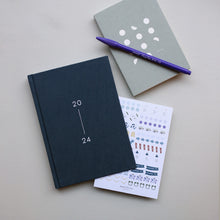 2024 OFFER BUNDLE // ENGLISH
The new year is quietly approaching. We have a special treat for those of you gearing up for 2024, ready to organize your life, plans and important dates.
When you purchase our 2024 Notebook Calendar, you'll receive our Pocket Notebook in a grey shade, a fineliner in violet and our brand-new calendar stickers absolutely free!
Simply add this set to your cart and pay only for the calendar.
This set includes:
This special offer expires on Sunday, December 3, 2023. 
Total value of 307,5 DKK.